Effective Web Design for North Carolina Small Business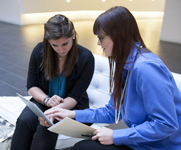 The Internet is no longer an entertaining pass time, but a vital part of daily life.
How do you interpret effective web design? Noble Website Solutions believe that an effective website should be simple and clean. The days of oversized blinking text, rotating images, and animated objects running across the screen are pretty much over. The Internet is no longer an entertaining pass time, but has become a vital part of our daily life. Internet access cell phones, along with the newest PC tablets are clear signs of all the changes taking place with the Internet. Most people do not want to navigate through flashy fluff anymore, they know what information, product, or service they are searching for, and they want it quickly.
Simple, Clean Web Design
Simple and clean does not mean that the websites I create will be boring and lifeless. Far from it. Every website project begins with a person to person consultation to learn as much as possible about who my clients are, what they do, and where they work. Together we can determine how to meet the website goals. Every website is custom built from the ground up to reflect the uniqueness of the individual, business, or organization. Many factors are considered in the design plan, sometimes that might include the feel of the surrounding community. Raleigh appeals to the cultural arts, where as Wake Forest has a strong residential family feeling.
Ready to start your project?
Contact
(727)643-7778 cell
109 Waddell St. Louisburg, NC 27549